Devon Rex or Cornish Rex: What You Need To Know
For those who are new to the Devon Rex and Cornish Rex breeds, identifying which is which would seem like a hard task. They both have similar appearances, place of origin, and the most obvious, breed names. Although they can look confusing to people, getting to know them better would make anyone realize that they are unique from each other. This means that any prospective owner should research thoroughly on which cat is perfect to bring home. 
The good news is, you don't have to go anywhere looking for their cat profiles because all of that can be found in this article. Keep reading!
Breed Origins
Devon Rex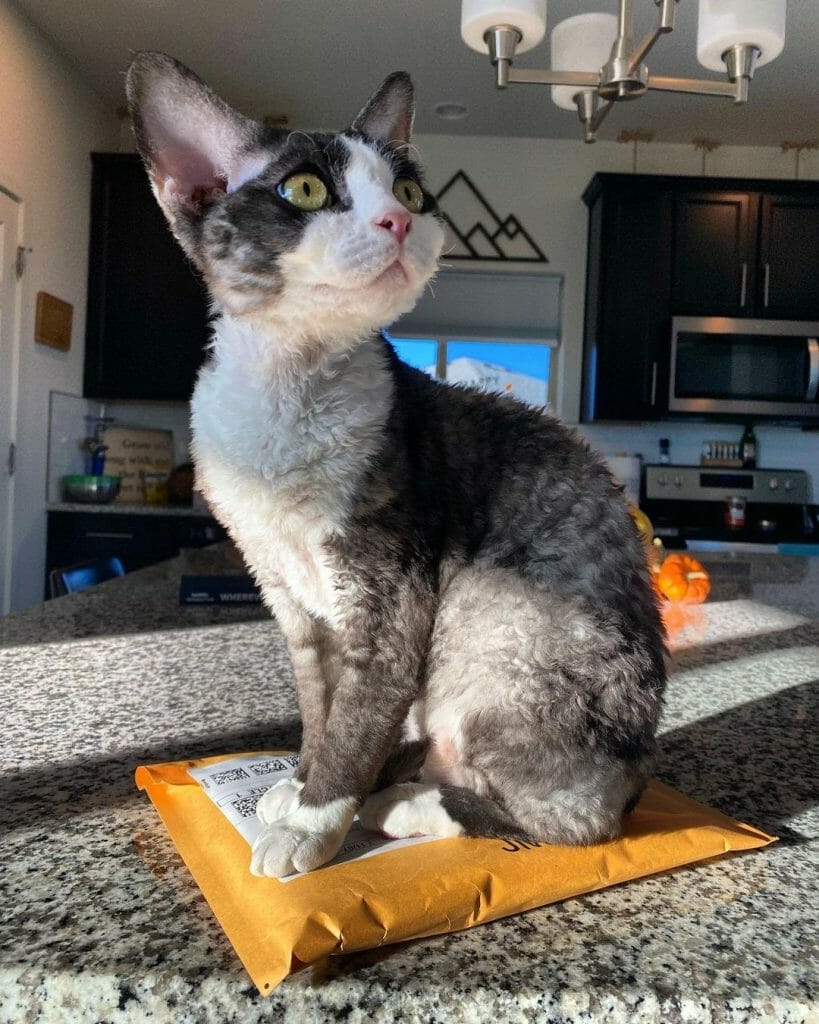 The First Devon Rex cat emerged from a farm located in Devonshire, England during the 1960s. Beryl Cox took out from the litter a rather peculiar-looking kitten and, later on, named it Kirlee. When the Cornish Rex breeding was surging, Cox sold Kirlee to the breeders and had it mated with the Cornish cat breed. Unfortunately, the wavy coat wasn't carried over. 
They found out that Kirlee had a unique genetic mutation. This then led breeders to separate the two lines and attempt to make a new breed known today as the Devon Rex. After a few generations, this cat finally had its identifying characteristics. 
Several cat clubs and organizations like the Fédération Internationale Féline and the Cat Fanciers' Association eventually officially recognized this as a new breed in 1967 and 1979, respectively.
Cornish Rex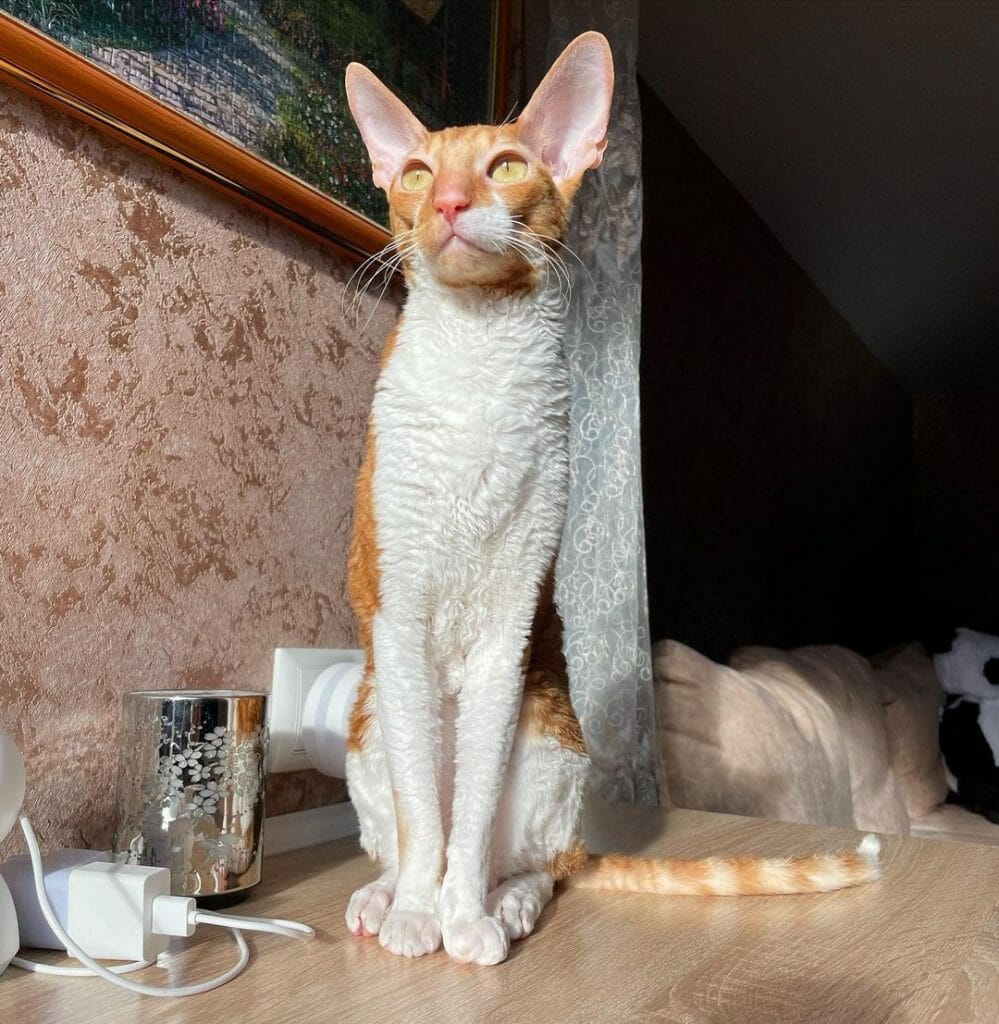 Hailing from the Cornwall region, the Cornish Rex emerged in the 1950s. This cat breed was also a result of a genetic mutation causing the kitten from the litter to have an odd quality of coat. The parents of the said kitten were believed to have been a British Shorthair and an unknown sire.
Nina Enismoore, the owner, took the kitten and named him Kallibunker. Once he matured, he was brought back to his mother to inter-breed. Three kittens were produced and two carried the same mutated Rex gene. 
To develop the breed, they were then mated to various breeds like the Siamese, British Shorthair, and Burmese. When they reached the American soil, the early Cornish Rexes were mated with the Havana Brown, American Shorthair, and other cats to preserve the breed from going extinct, especially that its number declined in England. 
Size Appearance, & Coloring
Devon Rex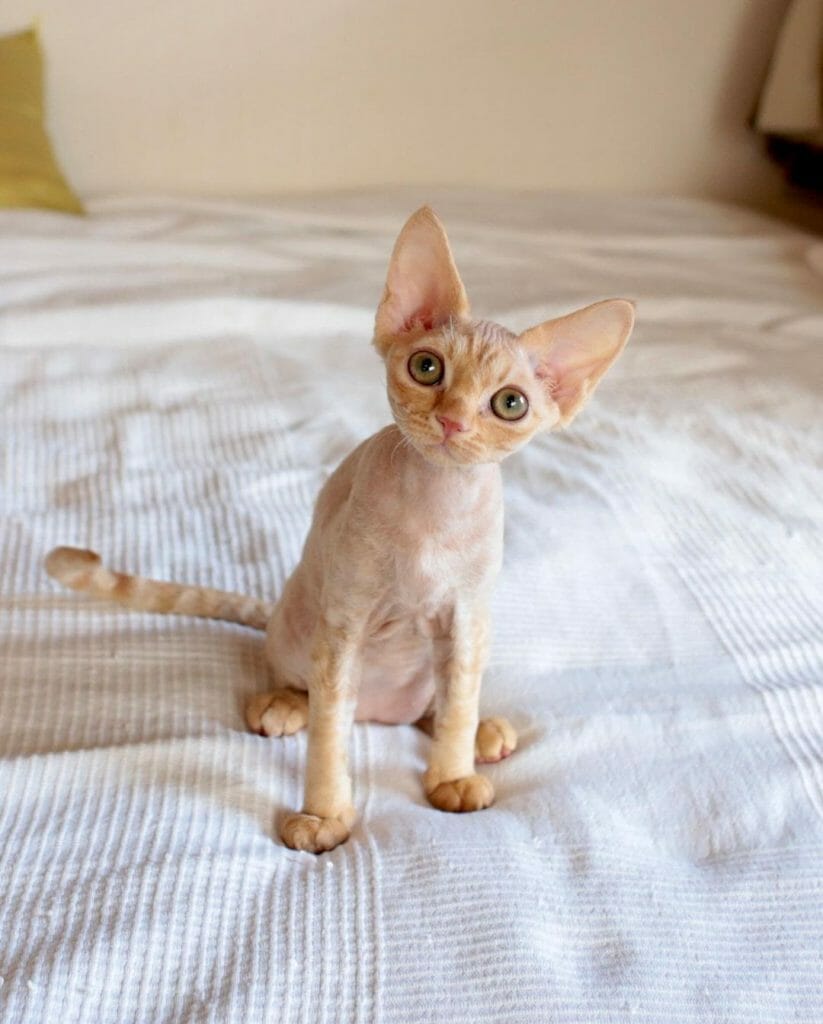 The Devon Rex has an elf-like image thanks to his large, wide ears that show alertness at all times. He's a medium-sized cat weighing only 6-9 pounds with a height that ranges from 10-12 inches. The indicators that would tell you it's a Devon Rex also include high cheekbones, large eyes, a long neck, and a slim physique. 
Of course, you can't just ignore his fine yet dense, wavy coat. He looks like he just got out of the salon due to his odd coat quality. Although his coat is short already, the length gets even shorter in various parts of his body like the ears, head, paws, neck, abdomen, and chest. 
If you go for this breed, you can select from a wide variety of natural colors including:
Lilac
Cinnamon
Black
Blue 
White
Chocolate
Cornish Rex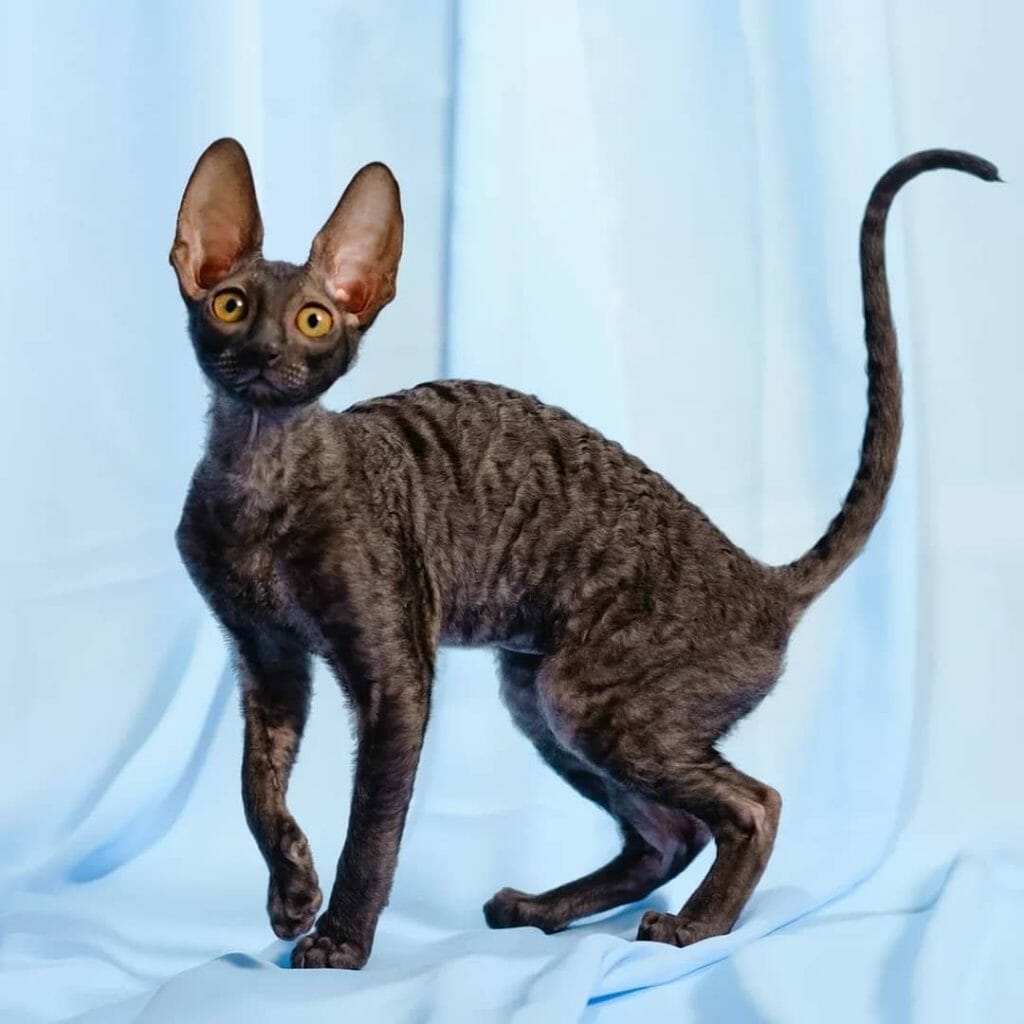 Due to being slim, the Cornish Rex is often seen as a fragile cat. However, anything under his skin tells otherwise because he has sturdy bones and a muscular build. He has a larger skull and a pointier snout compared to the Devon Rex. High cheekbones, large eyes, and two large ears complete his look. 
Often, people would say that the Cornish Rex is the cat version of the Whippet dog breed. This is due to the arching on its back whenever he walks. Out of all his characteristics, the most distinct is his wavy coat. While other cat breeds have different coat types, the Cornish Rex only has the undercoat which makes it appear soft and wavy. 
Going for this breed will give you several options for the coat color which can either be:
Blue
Black
Brown
Lilac
Red
Cream
Chocolate
Temperament
Devon Rex
The Devon Rex has lots of desirable qualities suitable for families who are looking for a pet. He is generally outgoing, friendly, and affectionate with his owners. This cat loves to be around his favorite human and wouldn't mind spending most of the day cuddling and getting petted on the head.
Sometimes, his nature would make it seem like he's becoming too demanding. Once he gets into old age, his kitten-ish nature doesn't diminish at all. He can be clownish, talkative, loving, and obedient. 
If you feel like you're having a typical day, look for your Devon Rex and he'll gladly entertain you with his mischievousness!
Cornish Rex
Prepare yourself if you own the Cornish Rex! This cat is one true adventurer who might end up in unexpected places like on top of your fridge or cupboards. This cat loves to play and move around and anything he sees can spark his curiosity.
When the season gets cold, there will be a change in his behavior. He'll constantly look for the warmer spots in the house and would ask for more cuddles. This is mainly because of the coat he has. 
In interacting with people, the Cornish Rex is one of those cat breeds who make friends fast. Once he bonds with you, he'll follow you anywhere. He can be independent, however, as long as he gets used to it early on.
Exercise Needs
Devon Rex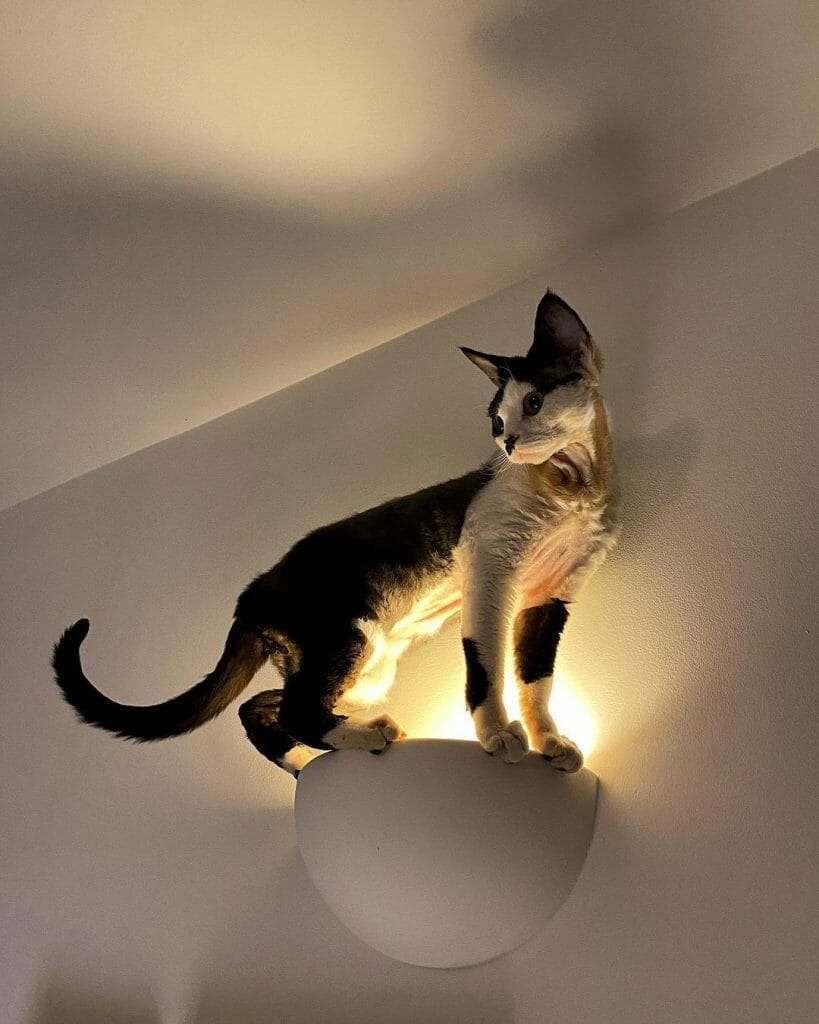 It won't be that hard to encourage a Devon Rex to get his body moving. He enjoys daily activities such as playing a game of fetch or climbing on trees. His playful nature which he manifests daily will keep him from gaining too much weight. Make sure you give him lots of your time since this is a great opportunity to bond. 
You can get him toys from MeoHui so he can regularly release all his pent-up energy or let him out in a fenced yard so he can investigate the surroundings by himself. 
Cornish Rex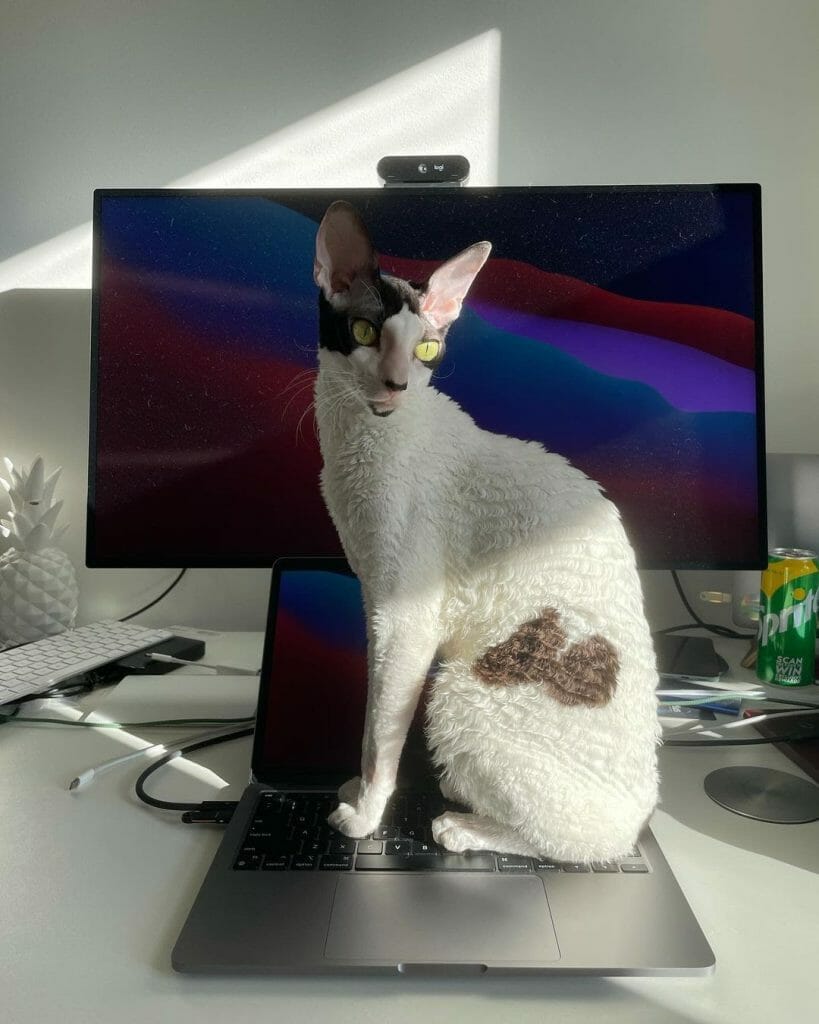 Although the Cornish Rex is slim, he usually can finish off a big meal. Thankfully, his active lifestyle keeps him from gaining too much weight. Since he's naturally inclined to get energetic, you don't have to worry about what activities to give him to prevent him from getting bored. Having a cat tower at home or trees to climb on would keep him well and happy. 
Playing with him is still advised, however, so don't hesitate to buy him toys he'd love.
Grooming Requirements
Devon Rex
Even though the Devon Rex might require a little more grooming care compared to other breeds, it doesn't necessarily mean he's high-maintenance. You'll just have to take care of his constantly greasy hair by washing him from time to time. Periodically trimming his nails would be necessary too, depending on what you think is best for him. 
Keep his ears clean and his shedding rate low by using a soft bristle brush a few times per week.
Cornish Rex
Grooming won't have to be too complicated if you own a Cornish Rex. His short, curly coat is low in maintenance so a weekly brush will do for him. This will help remove all loose and dead hairs while keeping the natural oil spread throughout for healthier skin.
Just be careful not to brush too vigorously or his skin and fur might end up getting damaged.
Health Problems
Devon Rex
Certain risks are common to this breed which means regular check-ups should be done to keep him healthy. Nevertheless, most Devon Rex cats live around 9-15 years. Just watch out for these conditions that might affect him:
Patellar luxation
Hypertrophic cardiomyopathy
Panleukopenia
Calicivirus
Cornish Rex
Robust and generally healthy, the Cornish Rex doesn't have many genetic health problems. However, diseases common to cats may still develop in his later years. This includes:
Patellar luxation
Kidney disease
Hypertrophic cardiomyopathy
Rhinotracheitis
Cost Per Kitten
Devon Rex
Adoption: $75 to $150
Reputable Breeder: $1,200 to $1,800
Cornish Rex
Adoption: $75 to $150
Reputable Breeder: $800 to $1,300
Which Cat Is Right for You?
If you are into cats that are energetic, loving, and playful, both breeds are great to have. They have a lot of similarities only that the Cornish Rex is more frisky, has a longer lifespan, and suffers from less hereditary health issues. If you have the right lifestyle for either one of them, then both cat breeds can be perfect for you. 
Once you've decided which cat to bring to your place, adoption centers are the best option to have. Rescuing a cat will give you a fun and one-of-a-kind experience! However, if there's no Devon Rex or Cornish Rex available, opt to contact a reputable breeder who can give you a healthy feline.