Siamese vs Ragdoll: Highlighting Differences
Siamese cats and Ragdolls have stark differences. Anyone will easily be able to identify which is which thanks to the many features that are contrasting to the other. However, it's not just their dissimilar appearances that need to be taken into account when choosing a cat as a pet. Their temperament, needs, health, and cost must be fairly considered. To keep you from having a hard time deciding between these two magnificent breeds, this guide will lay out their uniqueness and lifestyle requirements.
Breed Origins
Siamese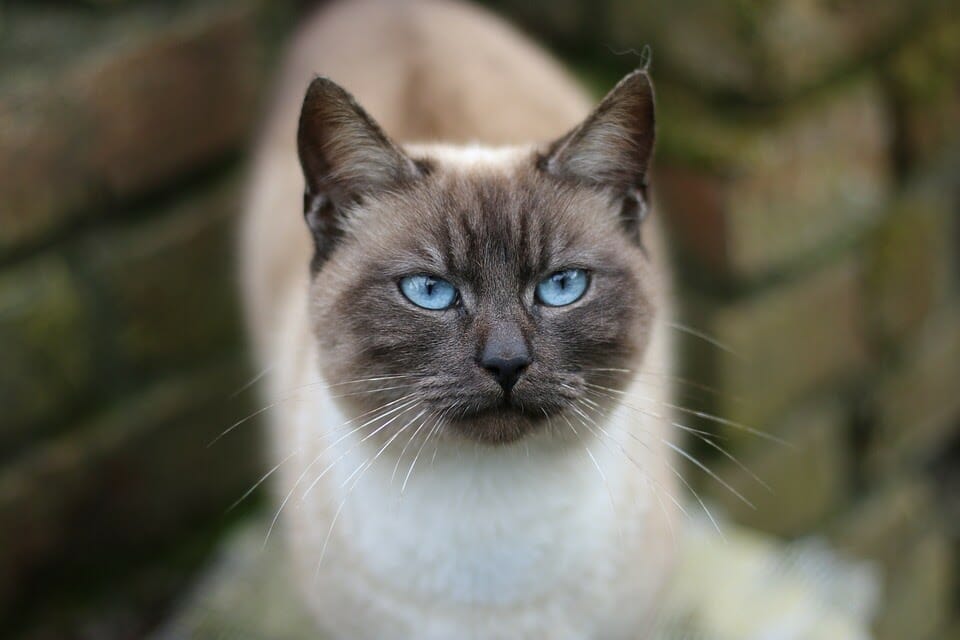 It's believed that the Siamese cat is originally from Thailand which was known in the past as the ancient Asian land, Siam. This explains where the breed got its name from. Several manuscripts from Siam's ancient capital mentioned the Siamese breed around the 1350s, according to The International Cat Association (TICA).
Historically, Siamese cats were heavily exclusive to the royal members of the family as well as to several upper-class families. They're of high importance in the society that stealing one is punishable by death. There are also superstitions entailing the Siamese breed. People see this feline as the guardian of the sacred Buddhist temples throughout the country.
One remarkable royal item the Siamese cat needed to watch over was the king's goblet. The feline stared at the piece intensely and wrapped its tail around it. As a result, the Siamese has developed a set of crossed eyes and a kinked tail. The TICA, however, finds these features as faulty, so selective breeding is done to eliminate these.
Ragdoll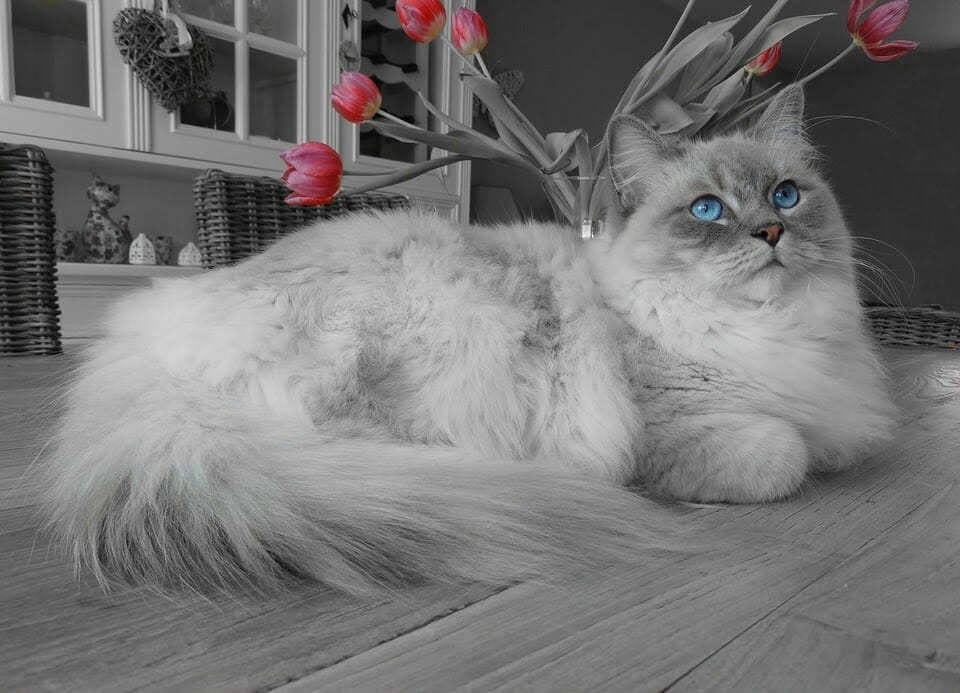 Ann Baker from Riverside, California was the key person to breed the Ragdoll. In the 1960s, a non-pedigreed white longhaired cat named Josephine produced a litter of kittens, and out of them was a docile, even-tempered cat who can be easily picked up. The queen was sired by either a Birman or Burmese-like cat that carried the same point coloration as the Siamese. When the litter, later on, reproduced the same peculiar kittens, Baker purchased several kittens from her neighbor and eventually bred the Ragdoll. It was then selectively bred in terms of size, personality, and point coloration. 
In addition, Baker rejected the traditional cat registries and made up her own: the International Ragdoll Cat Association (IRCA). Unfortunately, major cat organizations didn't acknowledge IRCA. However, with the effort of a couple in 1975, the Ragdoll breed standards emerged and the Cat Fanciers' Association and others gave recognition to this. 
Size, Appearance, & Coloring
Siamese
Two of the most notable characteristics possessed by the Siamese breed are their astonishing blue eyes and pointed coats. No doubt, it is enchanting to stare at their sea-like marbles and it is worth knowing as well the mystery behind their unusual coat. Genetically, they are partially albino thanks to the Himalayan gene that controls how their body's pigmentation works. Without that genetic code, a Siamese would only have one assigned color which can either be the following:
Seal 
Chocolate 
Blue 
Lilac
Red 
Cream 
Fawn 
Cinnamon 
Still, it's impossible for a Siamese not to have the color-pointed gene as this is deemed to be its identifying trait. The extremities like the feet, tail, ears, and face exhibit melanin, and the rest are paler in shade. 
Presently, there are two types of Siamese cats: the apple-head and the wedge-headed. The former is traditional while the latter is the outcome of selective breeding. Regardless of the variety, the breed is generally around 6 to 12 pounds in weight and 8 to 10 inches in height. 
Ragdoll
This domesticated cat breed is perhaps one of the largest. Full-grown Ragdolls can weigh from 8 to 20 pounds and reach a height of 9 to 11 inches. Surprisingly, it'll take them 4 years to reach their full size.
The breed's body is proportionate and well-built. The head is broad and the ears stand alert at all times. A simpler description would be that they are undeniably fluffy and they have the same point coloration as the Siamese. The gene also allows them to have distinct blue eyes.
There are 6 different color variations available to the Ragdoll breed which are not that different from the Siamese:
Blue 
Lilac 
Cream 
Chocolate
Seal 
Red
Temperament
Siamese
If you prefer a kitten that likes to talk back or seems like he's capable of carrying a conversation with you, then you should adopt a Siamese. He's highly vocal and at times, demanding if you'd listen carefully as to how he meows. There's a need for him to be constantly accompanied since he is highly prone to separation anxiety. 
It's expected of him to display his energetic side at all times. Having him play with toys or letting him out in the yard for some activities will keep him happy. The only thing this cat would hate is being rejected or not taken care of.
The Siamese cat has a dog-like personality. Highly trainable and a big people-pleaser. With that, you can train him to walk on a leash or play a game of fetch. He's so intelligent he can easily learn new things.
Ragdoll
Typically, the personality of the Ragdoll is composed of calm, sociable, and gentle. Just like the Siamese, this cat can be extremely devoted to its owners. Expect to receive unlimited amounts of affection from a Ragdoll, but this won't entail a demanding attitude.
This is perfect if you're looking for a cuddle buddy. His soft coat will somehow keep you warm during the rainy seasons. At best, you can liken him to a teddy bear! Due to how much he wants to be with his owner all the time, you can notice how attuned he can be to your emotional needs. Moreover, it won't be a problem introducing friends to him as he's naturally genial.
Of course, upbringing is just as important as helping him discover his natural traits. Always interact with your Ragdoll cat and ensure he gets the care he needs. 
Exercise Needs
Siamese
Unlike owning a dog, cat owners don't have to regularly take their pets out. Siamese cats fulfill their exercise needs mainly through playtime. Have your kitten running around using a laser beam light since it resembles a red bug. 
Don't forget to let him have an early morning or late afternoon stroll around the neighborhood. You won't have many worries about him running away since he can feel comfortable with a leash around his neck. In your other spare time, training him would be a great pastime activity.
Ragdoll
It's not overwhelming to own a Ragdoll. He is a low-maintenance cat, especially when it comes to his exercise needs. Usually, you'll find him lying around, but between his naps, the Ragdoll will manifest short outbursts of activity. Although he tends to laze, encourage him not to be a notorious couch potato. Prolonged immobility can be very harmful to his health. From time to time, let him enjoy all the toys you purchased for him.
Grooming Requirements
Siamese
Siamese cats have short coats and are relatively easy to groom. Using a steel cat grooming comb, all his loose and dead hairs will be instantly removed. Do this once a week or more often during the shedding season to keep his fur from flying everywhere. The nails also need to be trimmed every 10 to 14 days. His teeth should be regularly examined and cleaned as well. This will help him prevent periodontal disease.
Ragdoll
Prevent your cat's coat from getting matted and tangled by brushing him at least twice weekly. There's no need for him to be bathed since cats are self-groomers. Just stick to a routine to help him de-shed all the extra fur clinging to his body. His ears must be checked for any excess wax build-up and his teeth need to be brushed as well. Keep the nails trimmed but not too short so he can still enjoy climbing up on trees.
Health Problems
Siamese
There are not a lot of genetic diseases found on the Siamese breed. However, just like other cats, he can be prone to bacterial and viral infections. Other health issues every owner should watch out for are:
Chronic bronchial disease
Niemann-Pick disease
Mediastinal lymphoma
Progressive Retinal Atrophy
Ragdoll
The Ragdoll's preference for sleep is contradictory to his appetite for food. Make sure he eats just the right amount of high-quality cat food to prevent him from becoming obese. With a complete and balanced meal, the breed can avoid diseases like:
Hypertrophic cardiomyopathy
Urinary tract issues
Dental issues
Panleukopenia 
Cost per Kitten
Siamese
Adoption: $75-$100
Reputable Breeder: $600-$1000
Ragdoll
Adoption: $75-$100
Reputable Breeder: $800-$2000
Which Cat Should You Get?
Without a doubt, Siamese cats and Ragdolls are different from each other. If you have an active lifestyle, the most suitable would be the Siamese. He's talkative and energetic. Meanwhile, if you prefer a pet who's chill, the Ragdoll is the best fit. Carefully choose which would complement your lifestyle more for a mutually happy experience!